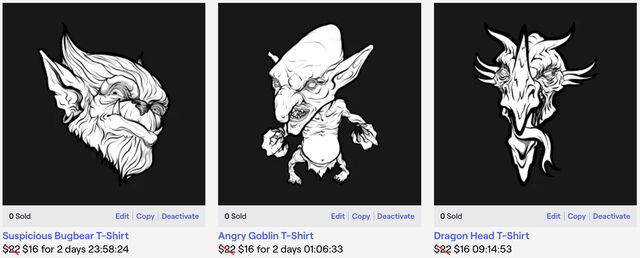 Okay, y'all are probably sick of seeing that dragon's head at this point, but it kinda started something for me.
I've been really enjoying this super simple (technically speaking) technique. I do a very fast, rough 'pencil sketch', create a new layer, and just use a single ink brush which varies widely in line weight based on pressure applied to the stylus.
What that does: It makes it really easy for me to 'intentionally make mistakes'. Or as Bob Ross would say: "Happy little accidents." That, in turn, creates a kind of bold detail work. Lots of visual texture where my stuff is usually so very steryl in its cleanliness.
Also, these look like they would make for amazing stickers - which are also available on the site.
So I'm going to do some more. I'm trying to stick primarily to 'the heads of creatures of known types'. Dragon, bugbear, and I cheated a little with the goblin.
What kind of creature would you like to see next? Bonus if it's a type that live a VERY long time so I can use lots of lines to make it look 'grizzled and old'.
MORE