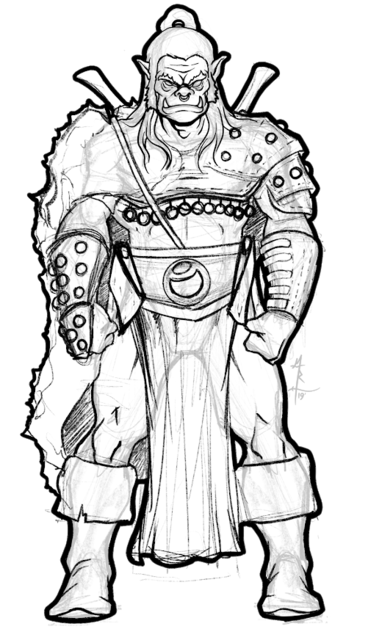 There's some events unfolding in my regular D&D group which mean that my character may soon be 'kidnapped' (sorta) and removed from the story. I'm in cahoots with my DM and I'm helping to build a pretty intriquing storyline with him. My character is... a major element, and I'm all in.
So with my character being away, my DM said I could play a new character, or an old character - whatever I like. I elected to bring back the first character I played with my current game group (and really, the first character I've played in 5e).
He's a half orc barbarian berserker named Wulfric. The character type (right down to his half orc-ness) is nothing shy of a cliche and I'm fully okay with that. I chose him in order to 'simplify' things for my first time learning 5e.
But here's the thing - he kinda grew on me.
What's more, I kept encountering moments when I felt like I could play Wulfric to the hilt, and it felt goooood.
Moments like when our group was fighting a collection of enemies and one of them had an imp as a familiar. It kept vanishing, attacking us, and then vanishing again. Wulfric reached out and grabbed it by the leg when it appeared (I rolled a nat 20, if memory serves) and he proceeded to beat the Imp's master with his own familiar!
I'm reworking an image I did of Wulfric back when I was first playing him. I'll add it to this post when it's done, but in the meantime, here's the original version (up top).
MORE