I last had a professional hair cut on January 3rd.  The last time I bleached my hair was on February 26th when I was up at my folks' place.

We snapped the following photo on March 27th, as a promo photo for our Coffee Break Concerts which launched on March 30th, 2020.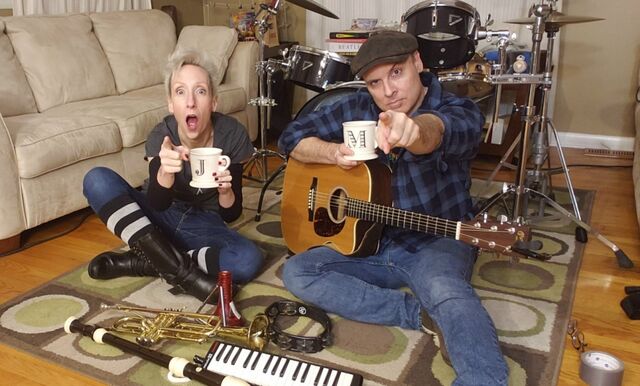 This next photo was snapped today, June 17th, after Coffee Break Concert #34.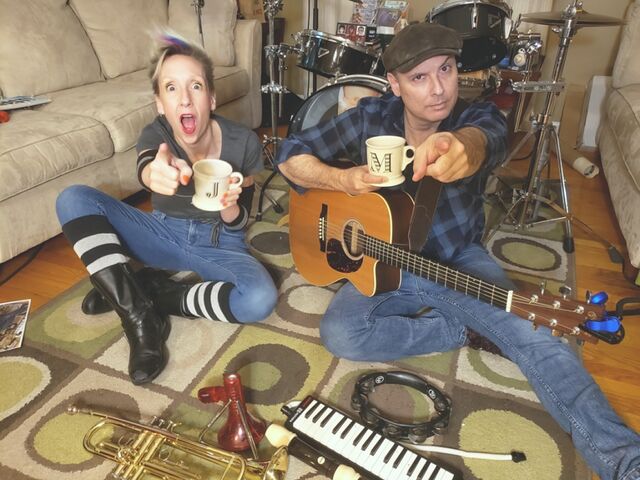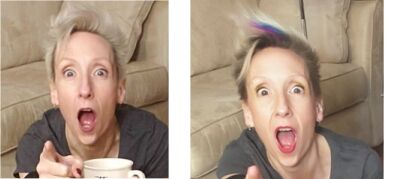 And here's a close-up comparison of my roots.  I have buzzed the sides and back several times with the #4 attachment on my clippers, and just two nights ago I finally broke down and purchased thinning shears because my faux-hawk was no longer staying up.  I'm wishing I had thought to snap the "after" photo before I had given the top part of my hair a little trim.
Seeing my natural hair color has been somewhat sobering. While I don't have much gray (surprisingly), my hair is pretty thin in the "yarmulke" part of my head. Having dark hair at the root makes my white scalp really show; where I feel like bleaching my hair makes it look less scalpy.
I do kinda like the way these dark roots look, though... but then I worry I'm treading dangerously close to Flavortown; I do not want to look like Guy Fieri.
Anyhoo, all is well here, considering.  I haven't worked at all this year, which is stressful... but it looks like training companies are starting to book more classes (99% of them are virtual at this point), which is good. Even if I'm not the one teaching them, I can still make a few bucks selling courseware for other people's classes, so that's good. 
Mentally I was struggling a bit right at the start of the lockdown, but these coffee break concerts really have been a saving grace. It's been good for me to have something to plan for, work towards, and look forward to... plus I get to be silly, and I get to "see" people I love in the chat window. 

We've scaled the concerts back to only Wednesdays and Fridays now that Delaware is into Phase 2 of reopening (back in the earlier phases we ran concerts on Mondays, Wednesdays, and Fridays).  This was the first week where we only did two shows instead of our typical 3 shows, and it felt like it's the right move (I think).  It's good to have a long weekend so we can go visit my parents without having to schlep an entire sound system.
Physically, my health has been OK. I feel like I'm fighting a little ear infection or something-- when I swallow my left gland where my left ear drains into my throat is all ouchie, though it doesn't hurt as much today as it did earlier in the week-- so maybe I'm over it.

We've been taking the quarantine very seriously, because my dad needs heart surgery (routine, no biggie, just a valve replacement) soon, and when that happens we'll be staying up there while he recovers.  We've been up there to visit twice during the lockdown, but our first visit was after Matt and I got tested for Covid-19.  I know tests are kinda silly because we could have gotten infected 3 minutes after leaving the testing site, but yeah. 
We haven't eaten anything we haven't cooked ourselves since March 14th. No takeout food, no delivery, no door dash, nada.  It's actually been pretty fun cooking stuff, making creative use of the leftovers, making sure things don't go to waste, etc.
Matt's lost about 12 pounds (he's happy about that), and I'm down about 2-3 pounds, which I am not happy about.  I just don't have much of an appetite. Oh well.
It's getting to be iron infusion time, so hopefully I'll get that in the next month or two. I got my iron bloodwork done about 4 weeks ago but I wasn't quiiiiiiite dead enough, so I'll get another round of bloodwork in two weeks and by then my iron levels should have sufficiently crashed. Wheee!
Right before the lockdown I was scheduled to have a ton of dental work done, but then that all got canceled. I just got a note from my dentist office now saying that they're now accepting patients again for everything from cleanings and routine services to bigger mouf projects, so I guess I should get rescheduling that... but maybe I should wait until my dad's heart stuff is done.  Like I said, I've been soooo diligent in my covid-fighting, but if I go for Dental Derp, I don't have any way to be sure I'm being as neurotic as I should be... and I also won't have a way to keep an extra eye on the dentist staff, too (though I hope I should be able to trust them).
What else... 
We have so much music-work to do, in addition to our own music. We figured we'd be getting a break with The Rock Orchestra being on hiatus, but nope!

Matt's been hired by a modern-day vaudeville/performing arts group in Maryland to create a shit-ton music for their next big production, so he's been heads-down creating bespoke arrangements of Queen tunes and Meatloaf songs that can fit the size ensemble this group has.  But he's not just writing the parts out and calling it good; they want him to change the feel of some of these tunes to give it more of a steampunky feel, if that makes any sense. They're an interesting group.

I've been hired by two bands to help them out with their respective "covid collaborations" -- you know, those videos where bands record themselves playing their parts of a song at home, and then someone assembles the audio and video into a Zoom-like view so you can watch the individual band members singing/playing the song.  We did a few of these for The Rock Orchestra (here and here), but then two bands I've never heard of contacted me hoping I could handle some insane backing vocals and percussion-- I guess they wanted to go bigger than what their band can usually cover.  They're paying hansomely, which is very nice, because it's fuck-ton of work. 

One of the songs one band wants me to do is a tune by Boston-- so I'm covering all of those stacked vocals that go waaaaay up into the stratosphere. I can do it, but first I have to write all the parts out and then I'll record them.  The other song for the other band is an original, so I'm creating the arrangements from scratch and singing them, and playing a bunch of percussion, too.  It's fun, but it's a lot of work.
In other news, I'm officially 762876 years old because I bought a few bird feeders and I love watching the birds go nuts for them. We have pair of cardinals, two pairs of sparrows, two borbs (mourning doves), four crows... and now most mornings three squirrels have been taking up residence in the feeders and pissing off the birds. (I can't believe four crows are afraid of 3 squirrels... where the sparrows could not care less about the squirrels. Go figure.) 

Around 3:30am a family of five raccoons pops by and eats whatever's been kicked over the sides of the feeders to the ground, though tonight they decided to sit right in the feeder-- five racoons on a pie plate eating seeds and nuts. It was pretty damn adorable. 
OK, this is way too long.  I know there are more important things I should be talking about, but my brain is squishy.
love you all.
MORE