Look, I don't care where you go, but get off LiveJournal. Today I was presented with this: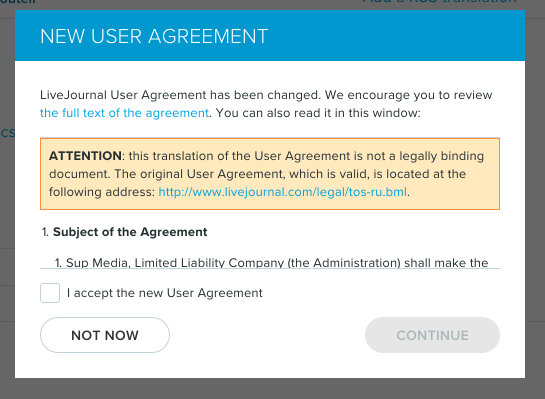 "The translation of this User Agreement is not a legally binding document. The original User Agreement, which is valid, is located at" [see document in Russian].
OK, so other sites change their terms... WITHOUT telling you they are NOT BOUND by the English version, that is... But LiveJournal also got rid of HTTPS recently. (Translation: completely sniffable on the wire.)
It's been circling the drain for a long time but COME ON CHILDREN, we need to FIND THE EXITS AND DEPART.
I will have to make time to check my backups and delete my LJ. What a PITA.
Well, it was good while it lasted. And it lasted a long time.
MORE