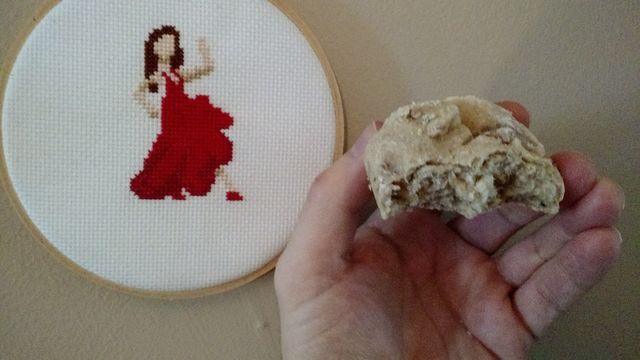 2 cups white flour

½ cup whole wheat flour
½ teaspoon baking soda
½ teaspoon baking powder
½ teaspoon salt
⅔ can coconut milk
Italian seasoning to taste
¼ cup coarsely chopped walnuts (I just crush a handful of pre-shelled walnuts in my fist as I'm dropping them in)
Enough almond milk
Mix the dry ingredients. Add the coconut milk, then enough almond milk to get to a slightly sticky but rollable consistency. Roll out with a rolling pin, not too thin, keep it maybe half an inch even. If there's leftover dough, you can roll it out again who am I kidding you ate it.

Use a small glass as a biscuit cutter, who has biscuit cutters?

Bake for 12 minutes at 350. Awesome as-is or with your spreadable fat of choice.
This recipe happens to be vegan. I would have put in an egg if I'd had one. Glad I didn't, I think they are perfect as-is.
They are on the salty side, but these are biscuits. Biscuits are not health food. They are snowy-day warm belly food.
MORE