I practiced for an hour & seven minutes today, according to my stopwatch.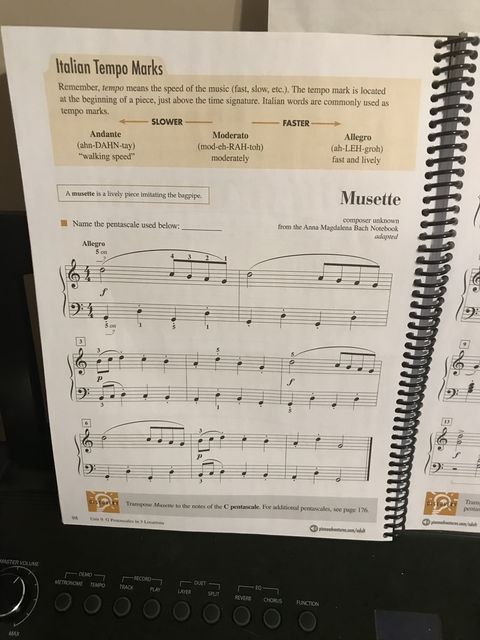 Worked on G pentascales and stuff that seemed boring and pedantic, then moved over to this innocent-seeming li'l ditty. 
After about 40 minutes or so or practicing, my left hand can do the left hand part perfectly, my right hand can do the right hand part perfectly, but as soon as I start the metronome and try to sync up the bass clef and the treble clef, a giant concrete wall forms between all the right-hand-left-hand stuff in my brain, and I'm sitting there paralyzed, holding down two notes, while the metronome goes tick... tick... tick...
It's not fear. It's just like my brain can't do it. It's pat your head & rub your tummy stuff.  I managed to pound my way through it, and measures 3-4 and 7-8 are passable, but 1-2 and 5-6 have given me a headache and a hand ache. I even went back and did the G pentascale exercises to try and make it easier. 
At 67 minutes, I made a mistake that sounded familiar, and started picking it out, or something similar. 
After this, it's Turkey In The Straw, a theme by Mozart in G major (your guess is as good as mine), and then...SHARPS & FLATS! Finally I can get some variety in here. 
I just realized that as of today, this has been a five month experiment. 
MORE