I have always wanted to see what it looked like inside.
The Pink Building--or more properly known as the Scottish Rite Cathedral--at the corner of Paseo de Peralta and Washington has been there, thankfully unchanged, my entire life. Iconic, mysterious, pink. A Santa Fe landmark that I've driven or walked by a million times. On Saturday I finally got a glimpse of what lies behind those pink walls when the temple was opened to the public. The Moorish-Revival style building has been around as long as NM has been a state (1912), modeled loosely after Spain's Alhambra, and is home to the Scottish Rite Freemasons.
Inside it's as though time has been suspended, from the most lush ornamentation to the plebian workaday features. I'm drawn to vintage, so I noticed little things like the push-button light switches, 50s atomic-era bathroom sinks and faucets, gorgeous metal radiators. Furniture, from the 1930s era oak chairs to the 1950s era lamps and tables. The door handles. A lavish auditorium. A to-die-for costuming room. A light-filled ballroom. An enormous kitchen. Narrow staircases. Wide staircases. Closed doors. Rooms and rooms and rooms. Just...so much. It was a lot to take in.
One reason why I wanted to go, besides getting to peek inside at last, is that I hoped to learn more about my great-great grandfather, who immigrated to the United States from Latvia in the mid 1850s or so, ending up in Texas. He was a high-ranked and highly-involved Mason, according to his obituary and the newspaper articles about him that I've been able to find. Maybe if I knew more about Masons, I thought, I would know more about him. And indeed that is how I now feel. I came away from Saturday's experience (listening to an introductory lecture, speaking one on one with several Masons who were there to answer questions, wandering around the place) with a lot more than just having my curiosity about this building satisfied; I now think I know a lot about what kind of a man he must have been, and I feel even prouder to be his descendant.
I can't seem to figure out how to get my vertical photos (taken with cellphone, not The Real Camera (I should have brought it)) to post vertically. They all end up sideways. This first post of mine here is a test anyway.
So, until I figure it out, please to enjoy this vintage postcard of the outside of the building. It doesn't even begin to capture the Pinkness of this place.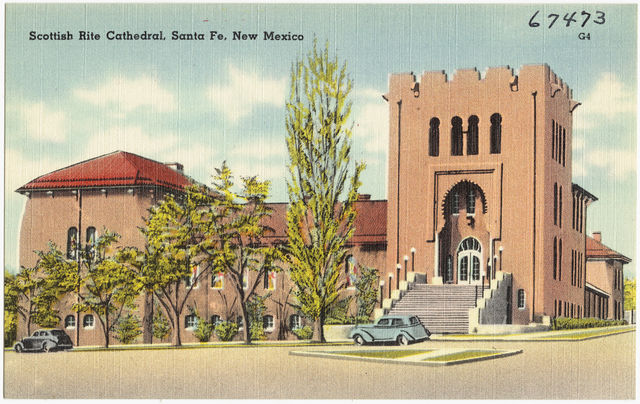 MORE