We tend to eat 'clean' here in the moveable house.
And by clean, I mean as little processed crap as possible. Of course, we have a freezer full of chocolate, and there's 3 boxes of Krispy Creme sitting on our bench after the trip to Canberra; I mean we aren't strict, we simlpy prefer to eat well. (Which means we tend to shop from the edges of the supermarket rather than the middle isles. Very little that is good foor you is found in the middle isles of the supermarket.)
Last nights dinner was steak and salad. In summer, I like to add fruit to our salads. It seems to make them crisp, light and refreshing.
Last night we had watermelon and rocket salad. Which is just rocket, a few finely chopped mint leaves, balls of watermelon, cucumber, danish feta and cooked proscuito. (If it was just me eating it I would have also added some sliced black olives, but I am the only one in this house that eats olives so I omitted them.) The dressing is balsamic vinegar, runny strawberry jam, salt, pepper, a sprinkle of sugar if needed and olive oil. A friend of mine got a thermomix lately and has been making all sorts of stuff in it. She made strawberry jam and gifted a jar of it to me. It's rather runny for a jam, but makes a nice sauce. So I fgured it would work well in salad dressing and it did.
I have no picture. It was demolished at break-neck speed.
But breakfast this morning is not a clean meal. Not by a long shot. (And it's something I rarely eat, but the family loves it, so I endeavor to make it at least once a fortnight) We're having Dutch Pancakes. My pancake mix is a little different to regular pancake mix.
1/2 cup of condensed milk
3/4 cup of hot water
(I mix these two ingredients first, then go have a cup of tea while it cools. I usually make a double mix because my boys are pigs, so to save time I add 3/4 cup of hot water and mix then add 3/4 cup of cold water from the fridge.)
To that I add
20grams of melted butter
1 teaspoon of vanilla essence
1 cup of plain flour
3 teaspoons baking powder
1 egg.
(Even when I double the mix, I still only use one egg. But that's because we have our own chickens and they lay massive eggs. so depending on the size of the eggs you buy, you may need to experiement.)
I mix it all up and pour it into a large squeezy bottle. This is just easier for use with the dutch pancake hot plate. Melted butter on the plate is super yummy, but I just use spray oil to cook the pancakes. They are quite small bite sized rounds of pancake. My plate makes 14 at a time. With this mix you can get 6 plates out of it. I usually double it because the man will eat 4 plates worth on his own. With cream and maple syrup. My little guy will eat 2 plates worth (sometimes 3) but he likes his with melted butter and cinnamon sugar. (They taste like donuts when you eat it like that.) On the rare occasion that I do eat pancakes, I like mine with lemon juice and sugar.
So a double mix will make 12 plates of 14 mini-cakes. (we usually do have some left over and they are delicious eaten like pikelets with jam and butter.)
If I get the chance to take a pic before they gobble them up, I will.
(If I make this on a weekday morning, I make the mix up the night before. I used to put it in the fridge overnight, but the mix would go a little weird sometimes so I only put it in the fridge over night now on really hot nights. But these pancakes are surprisingly quick and easy to make. Its the prep work that takes the most time.)
Not a good pic, but this is what 1 plate of naked dutch pancakes looks like.
(Note, this is a side plate not a dinner plate.)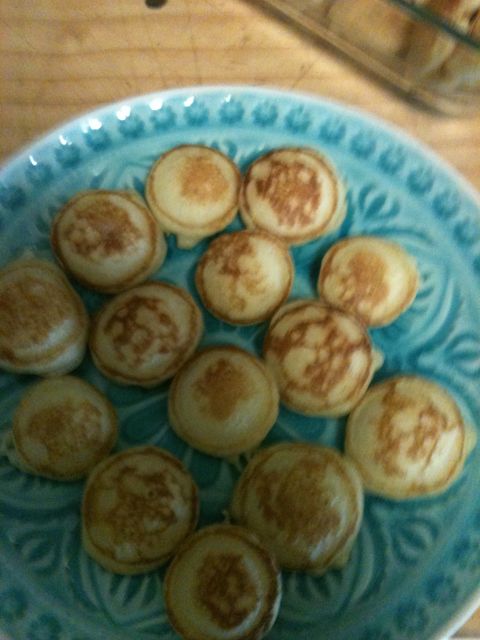 MORE